Sunday, August 18, 2013
"The details are not the details. They make the 
design." ~ 
Charles Eames
Posted by

Scarlett Redbud
at 9:25 PM
No comments:


A friend of mine is a picture framer like me. She rocks with creativity! Recently she posted some framing projects that she has done on her blog.
No one that I know would make a mat out of stained glass!
Go to her blog and pick your favorite framing project!
Posted by

Scarlett Redbud
at 9:06 PM
No comments:


Friday, August 9, 2013
At our family reunion last month several of us brought canvas to make floorcloths. Most of them were 2' x 4'. Mine was 5' x 5'. You can buy the canvas at Home Depot. Made by Everbilt.
Posted by

Scarlett Redbud
at 12:32 PM
No comments:


I love flowers. I LOVE FLOWERS! I'm so going to make this...soon.


http://www.addicted2decorating.com/how-to-make-a-decorative-chrysanthemum-mirror.html
Posted by

Scarlett Redbud
at 11:25 AM
No comments:


I LOVE avocados! I'm going to try this recipe as soon as I can. I found this wonderful recipe on
Closet Cooking
.
Printable Recipe:
https://sites.google.com/site/scarlettsswagga/chicken-and-avocado-enchiladas
Servings: makes 4 servings
Prep Time: 10 minutes
Cook Time: 20 minutes
Total Time: 30 minutes
Ingredients
1 cup chicken broth

1 cup salsa verde

1/2 cup sour cream (or Greek yogurt)

2 avocados

1 jalapeno, coarsely chopped (remove seeds for less heat)

1 clove garlic

1 teaspoon cumin, toasted and ground

salt and pepper to taste

1 handful cilantro

1/2 lime, juice

4 cups cooked shredded chicken

2 avocados, diced

2 green onions, sliced

2 cups cheddar cheese, shredded

2 cups monterey jack cheese, shredded

8 (7 inch) tortillas
Directions
Puree the chicken broth, salsa verde, sour cream, avocados, jalapeno, garlic, cumin, salt and pepper, cilantro and lime juice in a blender or food processor.

Mix the half of the sauce with the chicken, avocado, green onions and half of the cheese.

Coat the bottom of a large baking dish with some of the sauce, wrap the chicken and avocado mixture in the tortillas and place them in the dish.

Top the enchiladas with the remaining sauce and cheese and bake in a preheated 350F oven until the cheese has melted and the sides are bubbling, about 15-20 minutes.
Posted by

Scarlett Redbud
at 11:15 AM
No comments:


Wednesday, August 7, 2013
This is a 19' glass light sculpture that was recently installed in an amazing Italian Modern home. I just love this! Check out more information
HERE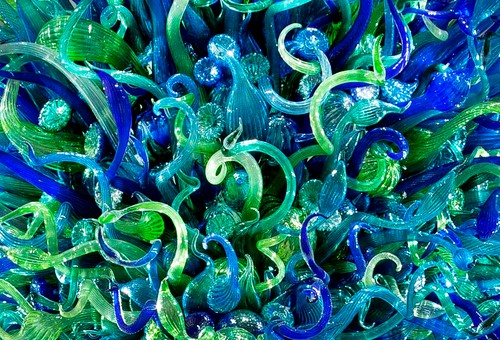 Posted by

Scarlett Redbud
at 1:17 PM
No comments: